CORONAVIRUS – What does it mean for our clients and our business contacts?
Paytons Solicitors remains open for business but in line with Government guidelines, our office in Malvern Link is closed. We are able to see clients who have made appointments by calling the office (all telephone numbers are listed below).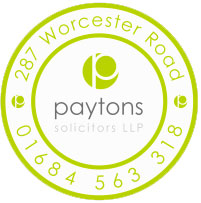 Our frontline staff are working from home, so e-mail should be your primary means of contact.
Messages left on our staff's voicemail are automatically e-mailed to them as sound files, so in that way we can return your calls.
If we require hard copy documents from you please arrange for these to be sent to the office in the post or delivered by hand using the letter box which is to the right of the front door, on the outside of the building.
---
It would be very helpful if where possible you could get in touch via email during this time.
---
We ask that you do not attend our office without an appointment. Please telephone us to discuss appointments.
We can readily arrange telephone consultations for important matters, and we can even deal with important document signature in a safe manner in our car park.
If you have any questions, please just give us a call and we'll go through your options together.
---
Office: 01684 563 318
Clare Malloy (Residential Property) – cm@paytons.co.uk
Simon Quilley (Commercial Property) – sq@paytons.co.uk
Kirsty Dance (Family, Matrimonial and Employment) – kd@paytons.co.uk
Helen Gagen (Residential Property) – hg@paytons.co.uk
Lyndzey Smissen (Probate, Will and Trusts) – lzs@paytons.co.uk
Stan Ginn (Litigation) – sdg@paytons.co.uk
---
We would ask for your patience and we thank you for your understanding.